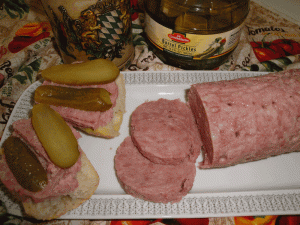 During our time in the meat business we were very fussy about the quality of the lunch meats and sausages we carried or made ourselves to sell in our store. With this in mind we are still picky and came to the conclusion, that besides buying the lunch meats and sausages that we can approve of according to their ingredient label we should make some ourselves at regular intervals.
By making our own we can easily control:
the quality of meat
the percentage of fat
the quantity of salt
the absence of fillers
the seasoning to our liking
and this gives us a product that is better, cheaper and healthier.
Better and Healthier:
As for the meat, there are no meat by products in our homemade sausage just 100% pork shoulder butts and lean ground beef. We also never use "Mechanically deboned Turkey or Chicken Meat".
The fat content in our "Wurst" is way below the up to 50% allowed by our government in some sausages.
Salt and fillers, we cut down on salt and do not use any fillers and extenders and with that the carbohydrate count does go down.
Cheaper:
The pork shoulder butts we use are priced well below $2.00 per pound, just check your supermarket to see what you will get for that price in the deli.
As an example of how cheap top quality can be, see our recipe of the "Suelze" (our version of headcheese without the head and without the cheese) at our Inge's Kitchen website. This again can be produced at today's prices with a minimum of work for under $2.00 per pound. You will not find the quality of this end product at any supermarket, not even at most Delicatessens with their average headcheese costing way above $5.00 per pound.
By the way, if you look at any sausage or lunch meat always consider that anything ground coarser will show more of the meat ingredients, so in the chopped meat of a headcheese not much can be hidden or like the computer jargon wysiwyg (what you see is what you get) then just look at the bologna!