Sorry, all dates for 2016 are booked!
Fundraisers for clubs or non profit organizations!



St.Clair and Macomb County,

Michigan

, only!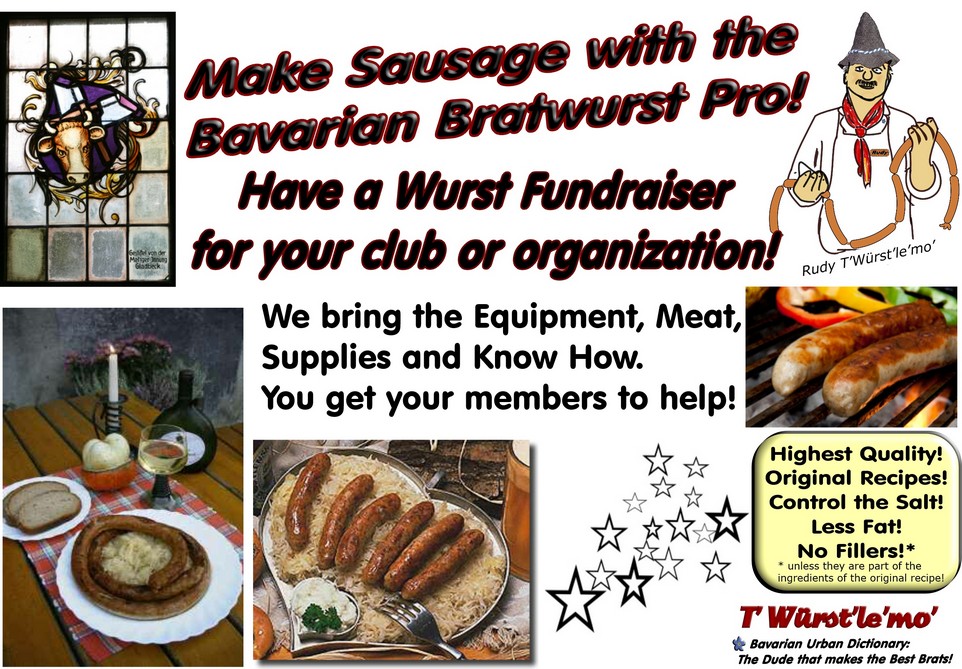 We all help together, have some fun and
your organization can generate some funds!
Our promise to you:
We will only make the highest quality sausage with the freshest ingredients.
Unless called for by the recipe (like potatoes in the potato sausage) we will not use any fillers!
We will not use any unnecessary ingredients, such as MSG or all those other unpronounceable ingredients you find in commercial sausage.
All Spice Blends are our own. You can find many of the recipes in the Lunchmeats & Sausage section of our Inge's Kitchen recipe site.
You can choose from:
fresh Polish Kielbasa, fine ground
fresh Polish Kielbasa, fine ground with Marjoram Breslau style
fresh Italian Sausage, mild
Bavarian Bratwurst fine with a touch of lemon
Bratwurst, regular
fresh Hungarian Sausage
Select one or two different varieties!!!

If you have a valid fresh sausage recipe of your own, we might be able to produce it with you.
Interested? Fill out the form below and we will get together with you to give you the facts, how we do it, our Terms & Conditions, pricing and if any dates opened up.


Price is subject to change without notification, due to market conditions!
Click below for a write up in the Macomb Daily about one of our fundraiser at the American Legion Post.