Click here to see the definition of Peameal Bacon on Wikipedia.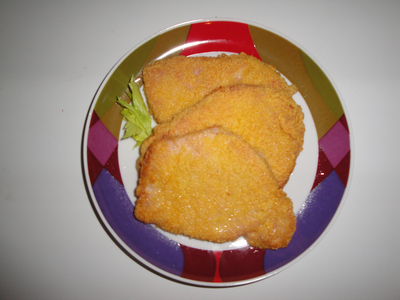 When we received the peameal bacon in our store we always sliced it thin and rolled the slices in cornmeal, that our customers get a nice crust when they fried them.
With boneless center cut pork loins well under the $2.00 mark again it is time to buy and cut up one of them.
Roasts, pork chops and even pork stew can be easily cut for a much cheaper price than in the meat counter. This is also the time to cut some thin slices and make some peameal bacon.
Sunny side up eggs or over easy with a couple slices of crispy peameal bacon and toast and jelly – what a great way to start a day.
If your pantry contains some cornmeal, the only ingredient you need, that you might not have in your house, is pink cure or DQ Curing Salt, which can be ordered from a supplier like Butcher and Packer Supply Company in Michigan.
For the easy recipe go to our Inge's Kitchen website. Once you bought the curing salt, also check out our base recipe for Wurst to make a high quality lunch meat for the price of a pork shoulder butt. (It's time to make the sausage when the pork butts are on special!)
Also see the post "Why waste Time to make Wurst?" for some IMHO pretty good reasons! .